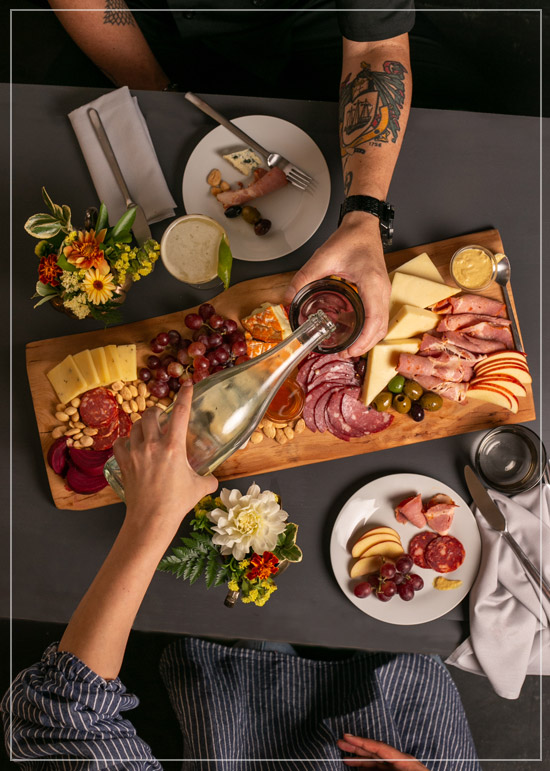 Our concepts are meant to be a starting point on your journey, not your destination. Because every client in the DRISCOLL family is unique, we should rarely serve the same dish, cocktail, or wine twice. We will work with you to customize your menu for your event or special occasion as you deserve the utmost attention to detail and special treatment.
Cooking with DRISCOLL
Mother Sauces
Tomato
Sauce Provençale
Basil arborio, black pepper chevre
Bechamel
Sauce Mornay
Macaroni, bacon bits, breadcrumbs
Velouté
Sauce Supreme
Seared chicken, asparagus, gruyere, bacon mac
Hollandaise
Sauce Bernaise
Seared steak, roasted Brussels sprouts, purple potatoes
The Awakening
Morning on the Mediterranean
Cocktail
Mimosa Flight
Prickly Pear, Green Chili, Strawberry-Basil
Amuse Bouche
Lobster Deviled Eggs
Appetizer
Bruschetta Trio
Burrata, bacon jam, arugula, heirloom tomato confit Prosciutto de Parma, fresh fig, mascarpone Smoked salmon, pesto
Salad
Barbabietole
Roasted beets, goat cheese, pistachios, blackberries, spring mix, Saba vinaigrette
European Breakfast Board
Fresh Croissants, Breakfast Breads, Jams, Fresh Fruit, Nuts, Pickled Vegetables, Cheese & Meat
Mimolette, Parmigiano-Reggiano, Triple-Cream Brie Sopressata, Mortadella,'Nduja, Prosciutto de Parma
Entrée
Garganelli e Funghi
Green peas, pecorino, pea shoots, mushrooms, crispy prosciutto
The Engagement
Spanish-Mexican Fusion
Opening Cocktail
Pineapple-Ginger Margarita
Silver tequila, fresh citrus, pineapple-ginger infusion
Amuse Bouche
Mezze
Roasted garlic hummus, carrot, cucumber, gluten-free pita crisps
Tapas
Jamón Serrano
Jamón Serrano Cerignola olives, avocado, red onion, serrano chile
Chicken Tinga Pupusas
Cabbage slaw, spicy mayo, corn tortillas
Shrimp Tacos
Cabbage slaw, spicy mayo, corn tortillas
Achiote-Rubbed Pork Belly
Crispy polenta cake, pickled red onion, habanero-orange marmalade
Patatas Bravas
Smoked paprika, Italian parsley
Peppers de Pedron
Shishito peppers, garlic, lime, blood-orange ponzu
Dessert
Desert Honey Sabayon Brûlée
Caramelized pineapple, prosecco, mint
Closing Cocktail
El Pimiento
Green chile vodka, Ancho Reyes chile liqueur, fresh citrus
Contemporary Surf and Turf
Opening Cocktail
Blood Orange Martini
Froggy B Organic Vodka | Cointreau | Fresh Blood Orange and Key Lime
Small Plates
Napoleon of Heirloom Tomato, Fresh Mozzarella & Basil
Balsamic Syrup | EVOO
Seared Scallop
Rapini | Shishito Pepper Agrodolce
Halibut Crudo
Red Fresno Pepper | Dragon Fruit | Cara Cara Orange | Avocado | Basil Oil
Grilled Bison
Thyme-Spiked Cauliflower Puree | Truffle Demi
Honey-Marsala Baked Figs
Fresh Ginger Sabayon
Dessert
Desert Honey Sabayon Brûlée
Caramelized pineapple, prosecco, mint
Closing Cocktail
Chocolate Sazerac
Four-Year-Aged Templeton Rye | White Cream de Cacao | Demerara Syrup | Aztec Chocolate Bitters
The Promise
Mexican Fiesta
Appetizers
Papas Bravas
Yukon potato, sazón spice, tomato aioli, minced herbs
Guacamole
Red onion, garlic, lime, tortilla chips
Tarta de Higo
Puff pastry, fig jam, brie, minced herbs, olive oil
Entrées
Pollo Guisado
Braised chicken, tomato, potato, sofrito, olives, plantains
Carne Asada and Carnitas Tacos
Lime, corn tortillas
Toppings: Pico de gallo, white onion, cilantro, cotija cheese, pickled cabbage, crema
Dessert
Tarta de Manzana Casera
Pastry crust, apple, cinnamon, vanilla crème, Chantilly
Tour Across the Land and Sea
Appetizers
Steamed Mussels
White wine and Spanish chorizo broth, fennel, garbanzos, sundried tomatoes, grilled baguette
Heirloom Tomato & Burrata Salad
Baby mixed greens, crispy pancetta, rustic garlic croutons, truffle vinaigrette
Entrées
Lobster & Boursin Ravioli
Red wine-lobster reduction, wild mushrooms, asparagus, basil
Filet Mignon
Pomegranate-balsamic gastrique glaze, creamy lemon-herb polenta, roasted beet medley
Pan-Seared Sea Bass
Basil beurre blanc, saffron risotto, roasted brussels sprouts
Dessert
Baked Alaska Flambé
Chocolate cake, pistachio and vanilla ice creams, malted milk balls, toasted meringue, flaming calvados brandy
Puerto Rican-Peruvian Fusion
Cocktail
Capel Pisco Sour
Appetizers
Acapurria
Crispy plantain fritters with savoy beef filling, cilantro-jalapeño aioli
Traditional Peruvian Ceviche
Corvina bass, Ají limo chili, boiled sweet potatoes, Peruvian cuzco corn, key limes, fresh herbs
Entrées
Peruvian Causa
Rich, creamy mashed potatoes mixed with Ají amarillo chili peppers, layered with albacore tuna, aioli, and avocado
Puerto Rican Pernil Pasteles
Mashed plantain and yuca root pastry filled with roasted pork and garbanzo bean sofrito and steamed in a banana leaf
Arroz con Pato
Beer-brined roasted duck breast and confit of leg and thigh, cilantro-pea risotto, salsa criolla
Dessert
Flan de Queso
Tembleque, toasted sesame
The Seduction
An Elegant Italian Evening
Amuse Bouche
Cocktail di Gamberetti
Poached prawn, Marie Rose sauce
Soup
Roasted Butternut Squash Bisque
Braised leeks, white truffle crème fraîche
Appetizer
Brown-Buttered Orange-Basil Gnocchi
Fontal cheese, asparagus, braised beef short rib
Entrée
Seasonal Wild Mushroom Risotto
Bacon-wrapped chicken roulade filled with spinach, mozzarella, sundried tomatoes, chicken demi-glace
Dessert
Bombay Alaska
Gelato, flambé méringue
Seafood Extravaganza
Amuse Bouche
Ahi Poke
Butter lettuce, honey-ginger vinaigrette
Appetizer
Sweet Chili Charred Octopus
Lemon fennel ginger relish, Japanese squash puree, ponzu-dressed radish sprout salad
Soup
Crustaceans en Papillote
Toasted bread
Pasta
Sea Urchin Carbonara (Demonstration)
Entrees
Pan-Seared Scallop
Coconut-lemongrass yellow curry, charred cauliflower, golden raisin and cashew chutney with garam marsala, English peas, biryani rice
Crispy Salmon Belly
Cilantro-jalapeno aioli, pickled onion, sweet pepper and yellow corn relish
Maple-Glazed Smoked Salmon
Horseradish wholegrain mustard emulsion, fondant potato "popcorn," Napa cabbage
New Continental
Cocktail
Smoky Peach Margarita
Mezcal, smoked peach, black smoke salt rim
Soup
Chilled Cantaloupe
Marcona almond, ricotta, chili oil
Salad
Compressed Watermelon
Concasse heirloom tomatoes, chèvre, citrus vinaigrette
Appetizer
Seared Pork Loin
Butternut squash agnolotti, sage sauce, pecorino romano, brown butter, parsley
Entrée
Petit Filet Mignon
Celery root purée, braised spinach, cremini mushroom, fingerling potato, Bordelaise sauce
Dessert
Strawberry "Shortcake"
Shortbread biscuit, strawberry gelato, Crow's Dairy quark
Modern Steakhouse
Amuse Bouche
Crispy Calamari
Spanish chorizo cream sauce
Soup
Consommé Olga
Clarified beef stock, diver scallops, port wine reduction
Salad
Lobster & Crispy Prosciutto
Heirloom tomatoes, frisée, spinach, orange-roasted fennel, avocado vinaigrette
Entrée
Steak & Lobster
Asparagus, lobster mashed potatoes, creamy lobster sauce
Dessert
Lemongrass-Hibiscus Raindrop Cake
Pomegranate molasses, sesame brittle
Cocktail Concepts
M.O.M.M. (Mezcal On My Mind)
Peach puree infused with thyme and vanilla combined with El Silencio mezcal, fresh lime juice, St. Germain elderflower liqueur, and orange bitters. Served up with black smoked sea salt rim.
Pomegranate Peach Bellini
Prosecco, peach hibiscus slush, pomegranate blood orange syrup, St. Germain elderflower liqueur. Served in a champagne flute.
Corazón
Silver tequila, Lillet Rouge liqueur, pomegranate passion fruit blood orange puree, lemon juice. Served up.
Can E Lope
Melon rum, coconut and mango rum, watermelon liqueur, splash of orange juice. Served up.
Délice à la Fraise
Gin, lemon juice, strawberry cordial, champagne. Served up.
Lower East Side Sour
Rye whiskey, lemon, simple syrup, cabernet sauvignon float. Served on a rock.
Watermelon Mint Mimosa
Prosecco, rum, watermelon puree, fresh mint. Served in a champagne flute.