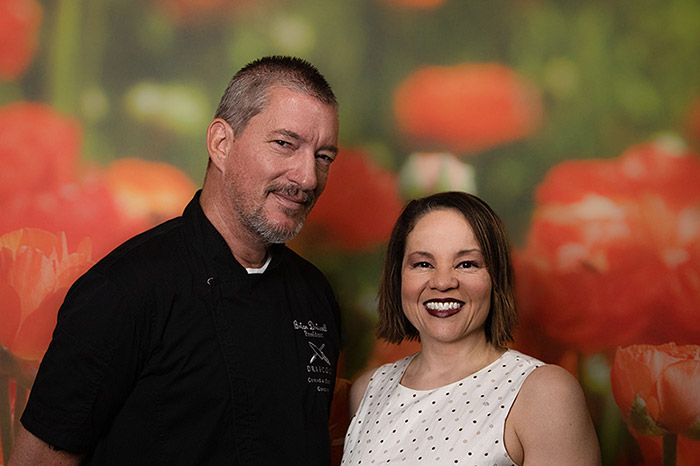 Brian Driscoll
Co-Founder & President
Brian's inspiration for DRISCOLL Cuisine & Cocktail Concepts was simple: A wife who wanted to surprise her husband upon his return home from overseas military duty asked Brian to cook and serve a romantic dinner for them at their home. When seeing the sheer wonder of their reunion, Brian knew immediately he wanted more people to experience that same magic.
Trained in the Japanese hospitality tradition of "omotenashi," which places a unique emphasis on anticipating guests' needs and being selfless in service delivery, Brian is a skilled chef who brings a wealth of knowledge and experience of the food and beverage industry and expertise in pairing food with wine, beer, and cocktails to clients when planning their special occasions.
Starting as a dishwasher at Sluggo's Chicago Style Eatery, Tommy Lasorda's restaurant in San Diego, at the age of 16, Brian worked his way from the back of the house to the front of the house, learning all aspects of restaurant operations. He worked as a server, bartender, trainer, and manager for large corporate chains, including Red Lobster, Claim Jumper, and Yard House. He also built a solid reputation as a top server and mixologist for independent, chef-driven fine dining restaurants.
Monique Hayward
Co-Founder & CEO
Monique is an award-winning entrepreneur, dynamic speaker, published author, and corporate marketing executive with over 25 years of business experience. She is currently the Senior Director and Ecosystem Lead for Business Applications at Microsoft Corporation. She formerly owned and operated Dessert Noir Café & Bar in Beaverton, Oregon, which she launched to fill a niche for upscale suburban dining options and was recognized as a standout in the market with awards for "Neighborhood Pick for Dessert" and "Best Bites" from The Oregonian. Monique also was a partner in Cerise Noire Software, a mobile software applications company.
In February 2009, Monique published her first book, Divas Doing Business: What the Guidebooks Don't Tell You About Being a Woman Entrepreneur, which includes a foreword by Oscar-winning actor Morgan Freeman. In February 2014, Monique released her second book, Get Your Hustle On! It's Not Just About Getting a Job, But Building a Rewarding Career.