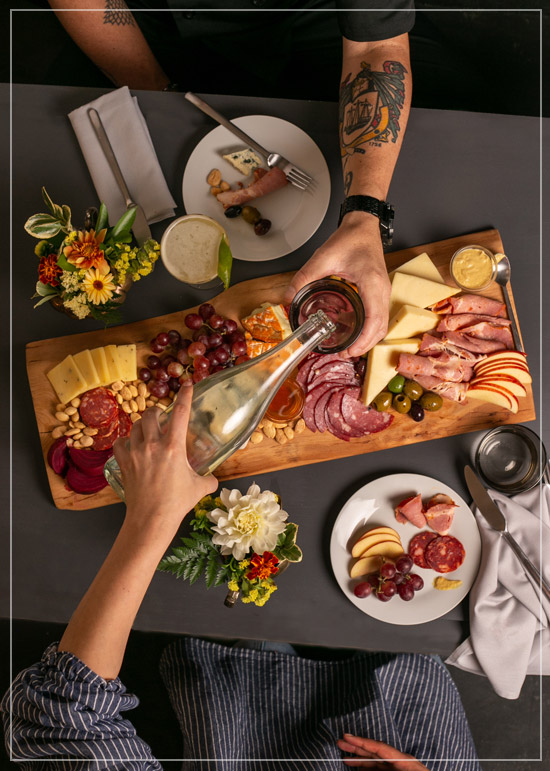 Our concepts are meant to be a starting point on your journey, not your destination. Because every client in the DRISCOLL family is unique, we should rarely serve the same dish, cocktail, or wine twice. We will work with you to customize your menu for your event or special occasion as you deserve the utmost attention to detail and special treatment.
Cuisine Concepts
The Promise
Italian Autumn
Artichoke Granitata
Stained Glass Pappardelle Cacio e Pepe
Slow-Cooked Ribollita
Calabrian-Style Risotto
Tuscan Osso Bucco with Cauliflower and Pressed Potatoes
Seafood Cioppino
Gelato Flight (Sea Salt and Butter, Chocolate, Pomegranate)
The Engagement
New American
Cauliflower and Kale Empanadas with Calabrian Chili Aioli
Lobster Deviled Eggs with Green Onion and Local Chili
Shepherd Pie Bites
Soup Shooters (Pick any of your three favorites)
Carolina-Style Crab Cakes with Old Bay Tartar Sauce
Lamb Lollipops with Feta Spoon Bread and Jardinera
Spanakopita with Tomato Sugo
The Seduction
French Quarter Feast
Chilled Pea Stew with Lemon
Watermelon Salad with Pomegranate and Granola
Rock Fish with Potato, Haricots Verts, Tangerine Beurre
Carolina Grits with Shrimp, Green Tomato, and Pimento
"Red Drink"
Old Bay Fried Chicken with Braised Greens, Gravy, and Spiced Red Beans
Roasted Sweet Yam Mouse
Café du Monde Beignets and Chicory Coffee
Fun Themes
Friendly Rivalry: Tailgate Party
Indian Fry Bread Sliders with Traditional Pork Chorizo, Manchego Cheese, Onion-Grape Jam, and Arugula
Rabbit Tamales with Blue Corn Masa, Tequila-Lime Cream, and Spicy Pickles
Sonoran-Style Hot Dog with Pico de Gallo, Avocado, Cilantro, and Tajin Aioli
Himalayan Momos (Asian-Style Chicken Dumplings) with Ponzu and Pickled Wasabi
Pork and Pea Arancini with Spicy Tomato Sego
St. Louis-Style Rib Tips with Coleslaw
Spicy Garlic Shrimp Skewers with Sake Soy Glaze and Shishito Peppers
Just the Two of Us
Lobster Fra Diavolo
Spicy Clam Toast on House Loaf
Baby Octopus with Gigante Beans and Oregano
Parmesan-Crusted Artichoke Hearts
Mustard-Crusted Branzino with Mustard Greens and Cherry Tomatoes
Scallops with Fennel and Blood Orange
Elegant Chocolate Raspberry Parfait
For the Boys: Guys' Night
Classic Roadhouse Rolls and Butter 
Mac and Cheese Bites with Buttermilk Dressing
Loaded Twice Backed Potato 
Smoked Brisket
Pork or Beef Ribs (Pick Your Style) 
Pulled Pork Sliders and Coleslaw on Artisan Roll  
Bourbon Pecan Pie
Rosé Our Way: Girls' Day Out Brunch
Roasted Root Vegetable Salad with Strawberry Vinaigrette
Spring Garlic Soup with Truffle Oil and Radish Sprouts
Cauliflower Steak with Crispy Garbanzo Beans and Bull's Blood Beets
Quinoa and Legume Stuffed Peppers
Scallops with Charred Asparagus and Choron Sauce
Bonbon Flight (three types of decadent chocolate bonbons)
Cocktail Concepts
M.O.M.M. (Mezcal On My Mind)
Peach puree infused with thyme and vanilla combined with El Silencio mezcal, fresh lime juice, St. Germain elderflower liqueur, and orange bitters. Served up with black smoked sea salt rim.
Pomegranate Peach Bellini
Prosecco, peach hibiscus slush, pomegranate blood orange syrup, St. Germain elderflower liqueur. Served in a champagne flute.
Corazón
Silver tequila, Lillet Rouge liqueur, pomegranate passion fruit blood orange puree, lemon juice. Served up.
Can E Lope
Melon rum, coconut and mango rum, watermelon liqueur, splash of orange juice. Served up.
Délice à la Fraise
Gin, lemon juice, strawberry cordial, champagne. Served up.
Lower East Side Sour
Rye whiskey, lemon, simple syrup, cabernet sauvignon float. Served on a rock.
Watermelon Mint Mimosa
Prosecco, rum, watermelon puree, fresh mint. Served in a champagne flute.